Mac's Janitorial Services
Without proper care and maintenance, your flooring can lose its luster, becoming dull and detracting from the image of your business.
Mac's Janitorial Services offers a variety of floor care services ensured to improve the overall appearance of your building.
We have the right equipment to get the job done!
Vinyl Composite Tile (VCT)
Vinyl Composite Tile (VCT), when maintained correctly, can last upwards of 10-20 years! Even with daily maintenance, the floors develop a buildup of dirt and grime that cannot be removed with mopping. It's this buildup that causes your floors to look dull. Periodic stripping of VCT flooring removes the grime and finishing (wax sealant) improves the look of your floors and helps extend its overall life.
We recommend VCT flooring should be stripped once annually. If your floors need some extra TLC in between stripping services, we also offer a "Scrub and Wax" service that only scrubs the surface layer of buildup and floor finish, with a fine reapplication of wax sealant.
Over time, the grout on your tile floors develops a sticky residue that attracts dirt and becomes discolored. These porous surfaces are the most susceptible to dark staining. No matter how hard you scrub, this dirt can't completely be removed solely by hand.

At Mac's, we have the proper equipment and techniques to lift stains that hand scrubbing and mopping cannot. We wash your tile and grout using a pH-neutral solution and utilize our automatic floor scrubbers to machine scrub, lifting dirt and grime from your flooring.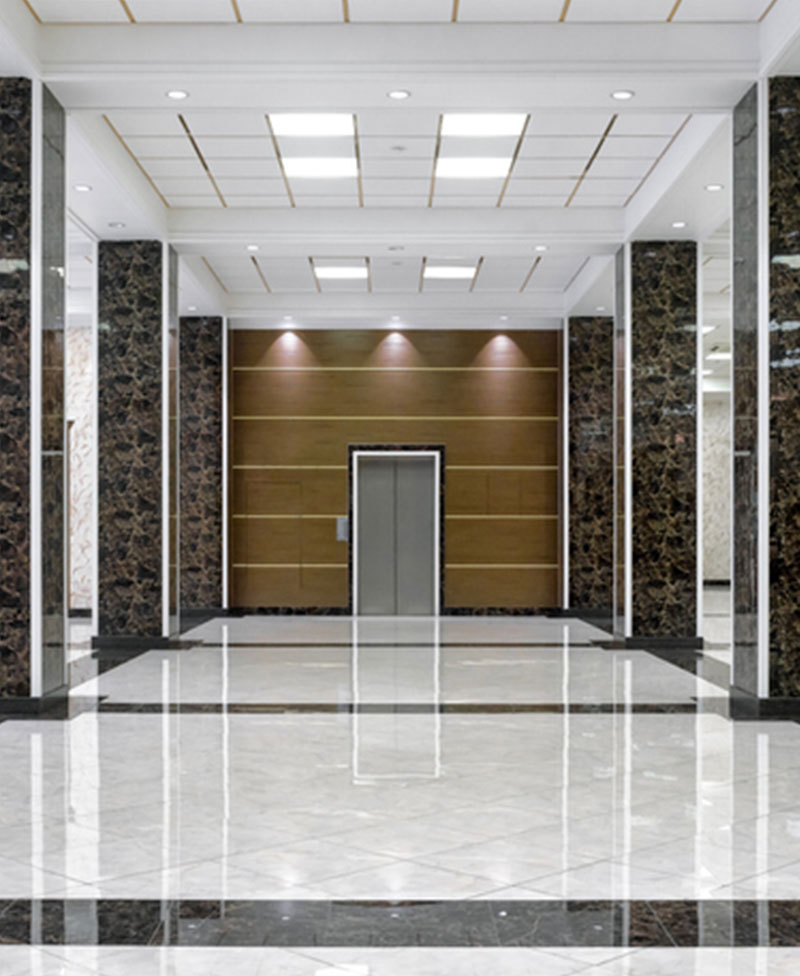 We like to do a combination of Encapsulation Chemistry and Hot Water Extraction to professionally clean our clients' carpets. In our expert opinion, these methods yield the best results in removing trapped dirt and lifting deep stains. Encapsulation Chemistry is great for surface cleaning, while Hot Water Extraction is great for deep cleaning.
With Encapsulation Chemistry, we use a chemical solution to clean the carpets. A rotary machine is used to agitate the carpet, allowing the chemical solution to be absorbed and isolate the dirt. Once fully absorbed, the chemical encapsulates the dirt on the fibers, the chemical is then removed with a vacuum. This low-moisture system makes this cleaning process fast and with minimum drying time. This is a great method for commercial carpet maintenance, perfect to maintain the surface of high foot traffic carpet. Your carpets can be put back into use promptly after service.
With Hot Water Extraction, we use high temperature water mixed with cleaning agents to clean the carpets. The hot water mixture then gets soaked into the carpet at high pressure to loosen the dirt. A powerful vacuum then extracts the dirty water from the carpet. This method is great for removing trapped dirt and deep-set stains and is an effective technique at deep cleaning carpets. The dry time is longer than with encapsulation chemistry due to the high-moisture system. Consult with our experts today about which method is best for you!
Don't see what you need? Give us a call!